Handicapped Buffalo Hunting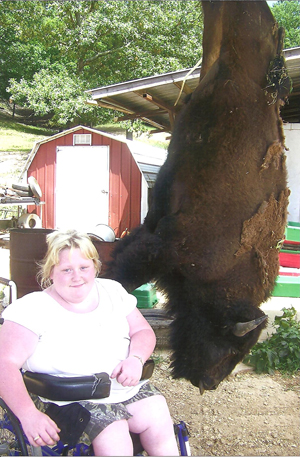 We at High Adventure Ranch understand that many Bison/Buffalo hunters both older and/or Handicapped/Disabled can no longer ride horseback, walk over or climb very rugged terrain, and handle the high altitude in the Mountains. That is why High Adventure Ranch is the place for you!
Based on your needs, we will cater to make your Trophy Buffalo or Cow Buffalo meat hunt as challenging and successful as possible in the field. With 95% of our ranch being heavily wooded it assists the guide in helping you get a shot within 100 to 125 yards of a Buffalo. We also have many miles of road around the ranch that help present many great opportunities to bag that Trophy or Cow Bison/Buffalo.
Back at camp we have accommodations either in the Lodge with a tub or Cabin with a Walk in shower, both having a ramp for easy access.
High Adventure Ranch believes that everyone deserves the chance to enjoy the outdoors!